Our vehicles
Ted´s Transfers is a small, local company striving to offer great customer service and a very reliable, pleasurable private transfer taxi service in Tyrol and Vorarlberg.
At the moment we have a fleet of 2 vehicles and a large enclosed box trailer.
For 1-3 passengers we offer our Audi A6 Allroad estate car. With Audi´ s Quattro 4 wheel drive system, luxury interior, heated seats and USB charging points, it offers a very smooth, comfortable and safe ride to your resort of choice on your Innsbruck airport transfer, Munich airport transfer or our other airport transfers.
For 4-8 passengers we have a long wheel base Mercedes Benz Sprinter minibus. The extra height and length compared to most smaller minibuses, really make a difference on the longer airport transfer drives. Even very tall people have lots of leg room and no risk of their heads rubbing on the ceiling. All 8 passenger seats have a full sized seat, unlike the 8th seat next to the driver on most minibuses. The extra space helps against motion sickness too.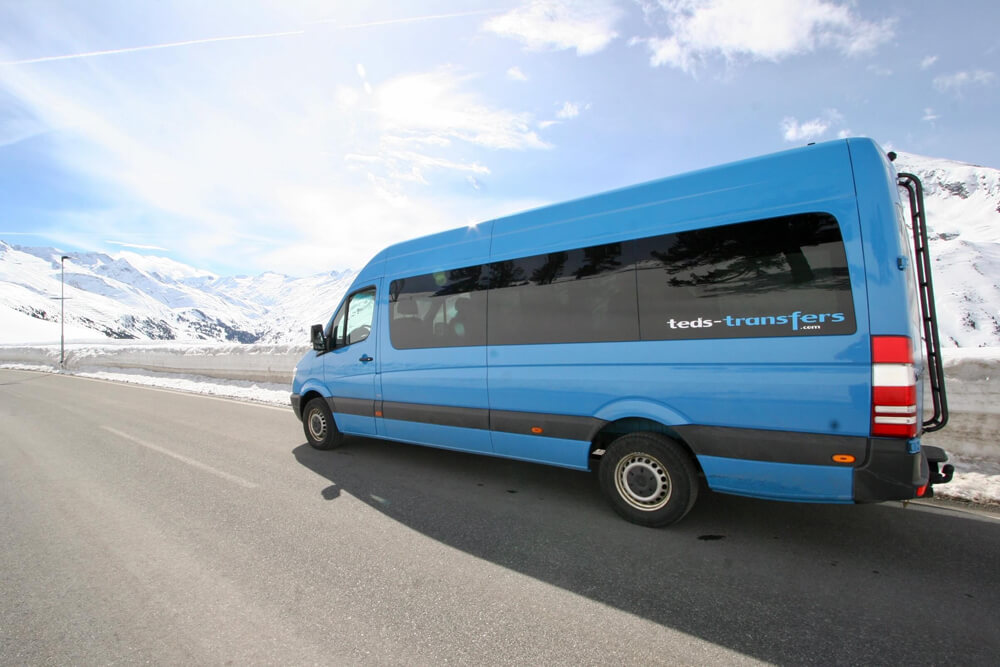 We mainly offer a private transfer taxi service, however our large Mercedes Sprinter is perfect for two families of three or four to share, meaning you can share the price too. Our most common routes for a shared option are:
Obergurgl airport transfer and Lech airport transfer
Please let us know when you are booking that you would like to share with another family if possible to reduce the costs. Please note that we only offer a shared transfer to families arriving/leaving on the same flight and going to the same ski resort, to minimise any waiting.
Comfortable Minibus Airport Transfer in Tyrol
Long wheel base Mercedes Sprinter minibus
Innsbruck airport transfer – Munich airport transfer
Extra large Mercedes Sprinter minibus with 8 full size, comfortable seats for up to 8 passengers
Lots of room for holiday luggage and ski´s/snowboards
Some seats with extra leg room for tall passengers
Free WiFi
Punctual pick up at airport or accommodation.
Professional Driver
Highly experienced and professional driver
English and fluent German languages spoken
Over 15 years of local transfer driving experience to help avoid bad traffic
Experienced driver in snowy conditions
Strict non-smoker
Child Safety
"Cybex" Pallas childseats with Isofix system
Comfortable booster seats for larger children
No extra charge for child seats
Luggage
Extra large rear luggage space
1-2 large bags/cases per passenger
Ski or Snowboard bags travel inside the bus (keeps them dry and clean)
Pushchairs or prams for babies are no problem
Hand luggage space under seats or in rear
Enclosed locked trailer or roof rack available for special requirements, i.e. mountain bikes, kayaks, surfboards, excess luggage
Find out more
Reviews