Our Munich airport taxi transfer to Sölden, brings you safely to the town at the heart of Ötztal. Sölden is not only one of Tirol's most popular tourist resorts but also one of the most renowned ski destinations in the Alps. It ranks among the best. Thanks to the high Alpine altitude between 1350 and 3340 meters, two glaciers and state-of-the-art mountain lift infrastructures plus snow-making systems. 144 km of freshly groomed slopes for beginners, advanced and real experts invite you to enjoy unlimited skiing and snowboarding. Sölden is Austria's only ski area to have three peaks higher than three thousand meters with spectacular viewing platforms. These are easily accessible via the mountain lifts – holidays with guaranteed wow moments!
James Bond 007 – "Spectre"
Sölden was one of the spectacular locations used during the filming of "Spectre" with Daniel Craig as James Bond. You can visit the James Bond cinematic experience built at the top of the Gaislachkogel cable car, which every Bond fan should experience.
For more information about Sölden: www.soelden.com
Airport Taxi Transfer Service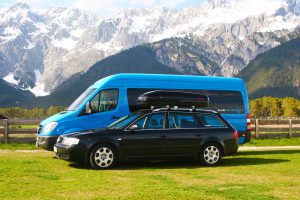 Professional Local Business
Ted´s Transfers is a small transfer company based in the small town of Silz, about 40 kilometers to the west of Innsbruck. Therefore our location is perfect to offer you a comfortable transfer from your chosen airport to your favorite ski resort. Our main company goal is to offer a completely hassle free taxi transfer service, with the ultimate customer service.
English background
Ted himself is originally from Oxford, England and moved to Tyrol in 1996 at the age of 19 to work in the outdoor industry. He has predominantly worked as a whitewater raft guide and outdoor manager in summer. As a Ski-Snowboard instructor amongst other jobs during the winter season, Ted has gained a lot of local experience in many areas of Tyrol.
Experience
To help fund his love of outdoor sports, Ted has worked more than 15 seasons as a transfer driver. Alongside ski and snowboard instructing, ski rental, hotel service and various other jobs. Because of his passion for driving, Ted has experienced many, many miles of roads in all conditions, throughout Europe and other continents and in all different types of vehicle.
How it began
In 2012 Ted founded the company "White Descents" with plans to offer ski safari holidays in the best resorts here in Tyrol. Because of the complicated nature of Tyrolean bureaucracy, White Descents had to change to survive. For marketing purposes the company name was changed and Ted´s Transfers was created.
Our aims
Whereas most taxi businesses are made up of a large fleet of drivers and vehicles, Ted´s Transfers is small and local. Because Ted himself is the main driver and back office worker, it gives him a complete overview of all the bookings and vehicles. This consequently enables him to really concentrate on offering the best possible customer care. And on keeping the airport transfer vehicles in an optimal state of cleanliness and functionality. Find out more about our vehicles.