Our Salzburg airport transfer to St Moritz brings you safely and comfortably through the stunningly beautiful Engadine valley to St Moritz.
Some places are simply unlike any other; the mere mention of their name summons up vivid images and emotions. St. Moritz is one such place. Its unique appeal began long before the days when Roger Moore raced down the slopes as James Bond, Alfred Hitchcock was inspired by Engadin's black crows and Gunter Sachs and Brigitte Bardot whispered sweet nothings to each other in the snow.
History
The history of St Moritz as we know it today began in 1864, when hotelier Johannes Badrutt made a bet with some of his British guests. He promised them that, in addition to the gorgeous summers, winter in St Moritz is so pleasant that on clear days you can enjoy the sunshine on the terrace without wearing a jacket. If he turned out to be wrong, the hotelier promised to pay their travel costs and accommodation. The following December, the group of British men crossed the Julier Pass covered from head to toe in furs. Upon arrival in St Moritz they were met by blue skies, warm sunshine and Badrutt, who stood waiting to greet them without a jacket and with rolled up sleeves. Winter tourism was born.
However, the history of this remarkable place began a lot earlier. Around 3,000 years earlier. After all, St Moritz originally owed its reputation to the healing mineral springs that inspired the town's spa and bathing traditions.
As the world's number one Alpine holiday destination, it is not surprising that the Winter Olympic Games were held not once, but twice here in the heart of the fascinating Upper Engadin lake district. What's more, the Albula and Bernina routes of the Rhaetian Railway are included on the UNESCO World Heritage List, making this sun-kissed Alpine metropolis the world's only destination to have both UNESCO and Olympic Games credentials.
For more St Moritz information: www.stmoritz.com
Airport Taxi Transfer Service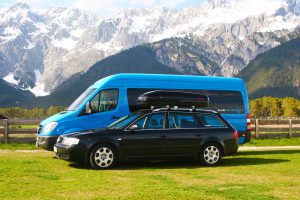 Professional Local Business
Ted´s Transfers is a small transfer company based in the small town of Silz, about 40 kilometers to the west of Innsbruck. Therefore our location is perfect to offer you a comfortable transfer from your chosen airport to your favorite ski resort. Our main company goal is to offer a completely hassle free taxi transfer service, with the ultimate customer service.
English background
Ted himself is originally from Oxford, England and moved to Tyrol in 1996 at the age of 19 to work in the outdoor industry. He has predominantly worked as a whitewater raft guide and outdoor manager in summer. As a Ski-Snowboard instructor amongst other jobs during the winter season, Ted has gained a lot of local experience in many areas of Tyrol.
Experience
To help fund his love of outdoor sports, Ted has worked more than 15 seasons as a transfer driver. Alongside ski and snowboard instructing, ski rental, hotel service and various other jobs. Because of his passion for driving, Ted has experienced many, many miles of roads in all conditions, throughout Europe and other continents and in all different types of vehicle.
How it began
In 2012 Ted founded the company "White Descents" with plans to offer ski safari holidays in the best resorts here in Tyrol. Because of the complicated nature of Tyrolean bureaucracy, White Descents had to change to survive. For marketing purposes the company name was changed and Ted´s Transfers was created.
Our aims
Whereas most taxi businesses are made up of a large fleet of drivers and vehicles, Ted´s Transfers is small and local. Because Ted himself is the main driver and back office worker, it gives him a complete overview of all the bookings and vehicles. This consequently enables him to really concentrate on offering the best possible customer care. And on keeping the airport transfer vehicles in an optimal state of cleanliness and functionality. Find out more about our vehicles.